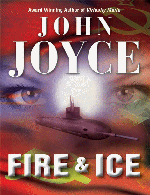 €

9.99 - On Sale
At the height of the Cuban Missile Crisis the fate of the world rested not in the hands of Kennedy or Khrushchev, but in the minds of two hunted women: FIRE & ICE
A damaged Soviet nuclear submarine receives orders to attack the flagship of the American blockade around Cuba with an atomic-tipped torpedo.
Are the instructions authentic, or are the scientists behind the ultra-secret telepathic experiment that transmitted the command intent on destroying the world?
In America and the USSR the hunt is on for the two surviving telepaths capable of stopping World War III - the two young women code named . . .
FIRE & ICE