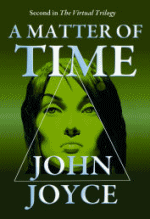 €

9.99 - On Sale
It's A Matter of Time for . . .
Theo Gilkrensky - billionaire genius obsessed with warping the very fabric of time itself to save his beloved wife Maria from death.
Yukiko Funakoshi - beautiful female assassin obsessed with revenge against Gilkrensky for the death of her parents.
Jerry Gibb - perverted computer games king who lusts after Theo's 'virtual Maria for his own sick fantasies.
This is the second cyber-thriller in John Joyce's 'Virtual Trilogy' - a high tech quest to tug at your heart strings and leave you on the edge of your seat.